News at Soundrevolution
%Europe/Zurich %b %2017
Brandt Audio, Cammino, Dr. Feickert, Hegel, HiFi Show, Lavardin, Manger, Merging-Nadac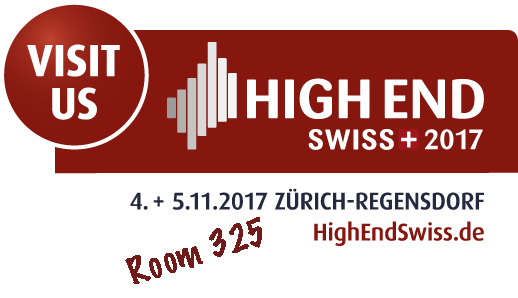 We were at the Swiss High End 2017, the setup was impressive and included all the news we have in our portfolio: Hegel, Manger, Cammino, Dr. Feickert, Nadac, Lavardin, Brandt Audio.
Daniela Manger herself (and You can see it in the pictures
here
) supported us in the show and we had a very pleasant and enjoyable time, lot of good stuff and lot of good music.
Mr. Giradischi from the Analog Audio Association expressed a very positive impression on our presentation.
Here
You can read his comments in German.
Here
is the original page on the AAA Association webpage
%Europe/Zurich %b %2017
Cammino, Dr. Feickert, Einstein, Hegel, HiFi Show, Lavardin, Manger, Merging-Nadac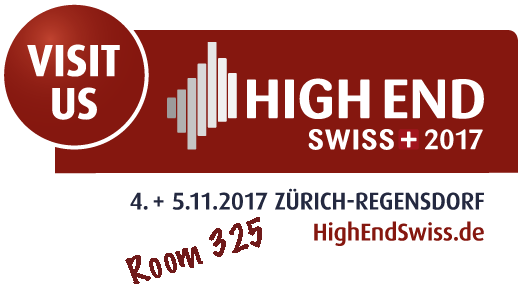 In Zürich-Regensdorf, at the hotel Mövenpick on the 4th and 5th of November You can enjoy the complete presentation of our products.
We will be presenting:
- NADAC Player (ROON)
- Lavardin integrated Amp (either the IS-X Réf. or the IT-X)
- CD Player Hegel Mohican or Gato Audio
- Einstein Little Big Phono
- Cammino Power Harmonizer H3.1 MK2
- Dr. Feickert Woodpecker Turntable
- Loudspeakers from Manger
- Cabling from Brandt Audio and Cammino
- our own rack creation based on Omicron products
…and lot of good stuff and good music!!
Pay us a visit on the 4th and 5th of November at the Swiss High End in Zürich-Regensdorf. Room 325.
You will be able to enjoy and purchase some chosen CDs and LPs from the Foné Catalog
%Europe/Zurich %b %2017
Blumenhofer, Cammino, Dr. Feickert, Event, Valvet Audio
Blumenhofer
macht aussergewöhnliche Lautsprecher im Süden Deutschlands, nahe Augsburg und von A bis Z selbst. Natürlich ist es schwierig für Audio-Enthusiasten, sich die verschiedenen Modelle lokal einmal zu Gemüte zu führen, vor allem die gewichtigen Exemplare.
Nun kann man sich die Genuin FS 1 MK 2 das Flaggschiff der Genuin-Serie zum ersten Mal in der Schweiz zu Gemüte führen und zwar am Samstag 3. Juni von 9:00 bis 17:00 bei
InConcert Audio in Olten
. Dazu kann man sich auch kleinere Modelle, wie die Genuin FS3 MK2 und die überragende Tempesta 17 anhören und bekommt damit einen guten Eindruck von den wunderbaren Klangwelten von Blumenhofer.
Hier können sie den Ankündigungbrief von Christian Wenger auf
avguide.ch