News at Soundrevolution
9 Aug 2017
Hegel
As Hegel says:
The H90 provides the most dynamic 60 watts per channel sound you have ever heard, and comes with a set of features that add value and flexibility. In the Hegel H90 we included network streaming, Apple Airplay®, and a variety of digital and analogue connections. All (except streaming) of which are configurable to be fixed level inputs, allowing you to easily integrate the H90 in a Home Theater system. Or perhaps you just want to connect the digital output of your Sonos streamer and use the Sonos volume attenuator rather than the Hegel remote? There is also a high quality headphone output and a sleek, informative, white OLED display.
We are happy to introduce it in Switzerland

Here
You can download the brochure of the H90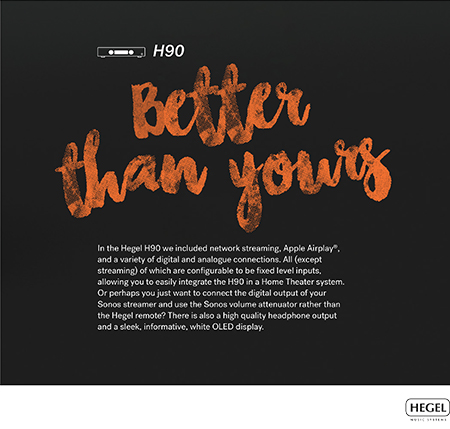 See Older Posts ...